Life is Sweet Checks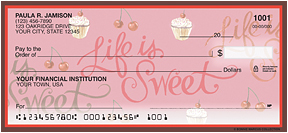 With cupcakes, cherries, pie and all types of sweet treats, your checks will be a tempting delight! You can indulge your sweet tooth and not gain a pound.

© Bonnie Marcus Collection

Singles - 5 pads/125 checks per box.
Duplicates - 5 pads/100 checks per box.

Also Recommended: