Aunty Acid Coffee Checks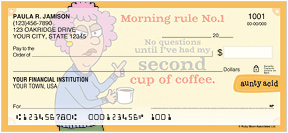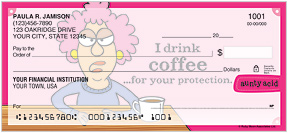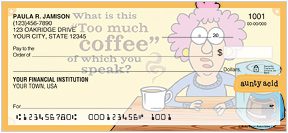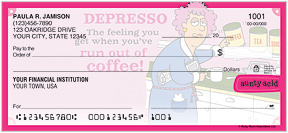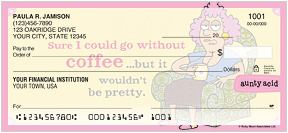 Coffee is a must any time of day with these sassy Aunty Acid Coffee checks. In this 6-scene check design, Aunty Acid wastes no time dishing out a healthy brew of sarcasm and humor when it refers to her morning cup of Joe. Each scene features the beloved character and her special coffee quote:

Morning Rule No. 1: No questions until I've had my second cup of coffee.
I drink coffee… for your protection.
What is this "Too much coffee" of which you speak?
O.C.D. Obsessive Coffee Disorder
Depresso: The feeling you get when you've run out of coffee!
Sure I could go without coffee… but it wouldn't be pretty.
Matching address labels and a leather cover are also available. Order your Aunty Acid Coffee personal checks today!





© Ruby Moon Associates Ltd.

Singles - 5 pads/125 checks per pack.
Duplicates - 5 pads/100 checks per pack.
Also Recommended: